Bucket Elevators, Crushers and Screeners
Bucket Elevating Systems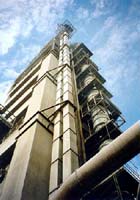 The Rexnord Rex® Hi-Load Bucket Elevator (formerly called the super capacity elevator) is the most complete line of heavy-duty, high bucket capacity elevators available today and with a complete selection to choose from:
4000 and 4100 series
two matched strands of chainend hung buckets.
Rex® hi-load bucket elevators are built to handle a wide range of bulk materials, such as fertilizer, cement clinker, coal, iron ore, shale, taconite pellets, to mention a few. All components - chain, sprockets, traction wheels, bearings, take-ups and buckets - are manufactured by Rexnord and designed to match your material handling requirements.

Bauermeister Roll Crushers
Bauermeister is specialised in the crushing technology. Crushing technology offered through Hofung offers:
Accurate crushing of brittle to medium-hard products with:
Narrow particle size distribution and
Minimum amount of dust with
Minimal product heating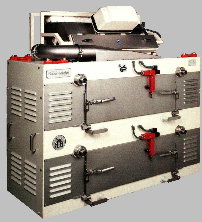 The corrugated rolls of the model 250.1 & 2 & 3 and 350.1 with:
Up to 3 crushing stages through modular design
Variable capacities through different roll lengths
Product specific rolls

Key features:
All machine components are easily accessible
Fast roll replacement
Reduced maintenance times
Optimal machine protection from foreign object passage
Low dust emission
Low noise level

Sizes:
Roll diameter: 250 mm & 350 mm
Roll lengths: 500, 900, 1300 mm, 1800mm

Options:
Feed roll device
Magnetic separator
Bearing temperature monitoring
Automatic bearing lubrication
Vibration monitoring
Special roll materials
Cooling rolls
Inertization

Screen Systems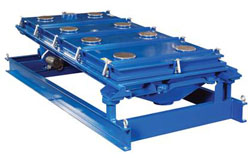 ROTEX screeners are self-contained production screening machines for separating dry materials according to particle size. Through their unique gyratory motion of near-horizontal screen surface, combined with a positive screen mesh cleaning system, ROTEX provides unusually high efficiency and capacity – all the result of continuing development for hundreds of applications throughout scores of industries.
ROTEX Screeners utilize a unique screening action that provides accuracy of separation at high production rate. As shown in the illustration here, materials enters at top left where it is distributed over the entire width of the screen surface and conveyed towards the discharge end. Large particles remain above the screen surface, while smaller particles pass through, as determined by the screen openings used for each particular application. The model illustrated here is a typical two-surface ROTEX, which separates material into three different grades. This model is widely used in fertilizer industry, especially for urea granulation plants.